Blokes have come a long way with regards to their grooming habits; from prehistoric scraggy beards and unkempt mops of hair, to today's modern, perfectly styled stubbles and carefully sculpted quiffs.
Millennial males want to take credit for the rise of the metrosexual man, however as explained by Brad Wicks in Bluebeards Revenge, it all began way before Old Spice and Brylcreem…
Ancient Egypt
Man's association with grooming can be traced back to as early as 10,000BC. The Ancient Egyptians had a serious affection for the Aloe Vera plant, as well as bathing milks, fragrant oils, and kohl.
In the dry, hot desserts of Egypt, these luxuries served multiple purposes. For example, kohl (a powdered concoction made of crushed antimony, burnt almonds, lead, oxidized copper, ochre, ash, malachite and chrysocolla) was one of the earliest examples of eye-liner. It was applied in such a way that it helped to reduce the glare of the sun – much like the black lines American Football players' apply to their faces today.
Whilst protection from the sun was one of the more practical applications for early grooming products, they were also developed and used as a way of improving the physical appearance and smell of their owners – just like the millions of modern products we use today.
The Egyptians smothered themselves in heavily fragranced oils in an attempt to cover body odour. Popular scents and ingredients in these oils included: myrrh, thyme, marjoram, chamomile, lavender, lily, peppermint, rosemary, cedar, rose, aloe, and even olive oil.
The Romans
Unlike the Ancient Egyptians – whose time and efforts were predominantly put towards shrouding their stench – the Romans looked to establish private and communal baths to encourage overall cleanliness. The communal baths they established also became renowned hot-spots for men to share their grooming secrets – an early representation of the millions of blogs that exist today.
With a particular passion for warm water and steam, the Roman's believed in removing impurities from beneath the skin and took inspiration from the Egyptians that came before them, using oil-based perfumes to dilute the baths. However, when pimples did break out, they used barley flour and butter to create a paste that sounds more edible than cosmetic.
The men of the Roman Empire were also some of the first to experiment with hair dyes. Blonde was the colour of choice and was applied in a desperate attempt to make them look younger, but the dyes they dabbled with in 100AD were often so corrosive that a large percentage of men lost their hair completely.
The 1900s
With the birth of Hollywood came an influx of celebrity icons with perfect, slicked back hair, pearl-white teeth, and cleanly shaven faces. These icons elevated men's grooming to a whole new level. The everyday man started to take a little more interest in how he looked and the fragrance industry burst in to life, with France acting as its main hub. Men were also introduced to the very first safety razor, making shaving at home a somewhat enjoyable experience. The safety razors of the 1900s were very basic, yet had a style and reliability that is still universally acknowledged today.
This new found addiction to grooming was encouraged by companies that popped up everywhere with miracle creams and products that 'guaranteed' complexions similar to the celebrities that men wanted to resemble, along with style magazines that showered readers with freebies and samples.
Fast-forward to America in the 1960s and the popularity of men's grooming becomes very evident with the birth of the 'Mad Men' style (thank you Don Draper) – men in pressed suits, with slicked back, side parted hair styles, clean shaven faces, and a love of whiskey were presented as the gentlemen of the advertisement industry, and would one day lay the foundations for the incredibly successful period drama of the same name.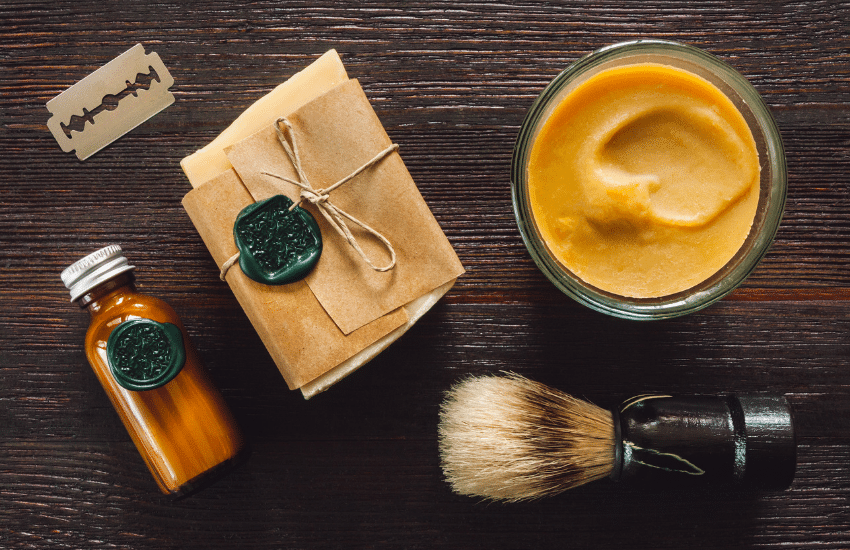 Men Have Skin Types Too
Unless you have been hiding under a rock, you will know today Mens Beauty is big business and men frequent the Spa as much as women. And like women, for men to get the best out of their skincare they need to use one suited to skin type.
Here are the most common skin types for men:
NORMAL OR NEUTRAL SKIN
Skin doesn't get oily or dry out easily. Men with this skin type generally find it easier to maintain a clear face.
OILY SKIN
If you have oily skin, chances are you notice a consistent shine on your face. The downside to oily skin is oil patches on your skin. This skin type is also more prone to breakouts.
DRY SKIN
Dry skin can lead your face to feel tight and dry during the day. Another sign of dry skin can be irritation that occurs in areas like your face and neck.
COMBINATION SKIN
For guys with combination skin (which is the most common skin type), the T-Zone of their face is often oily while the rest of their face remains dry.
Four Australian Skincare Brands Especially For Blokes
LET'S HEAR IT FOR THE BOY (LHIFTB) by AGENCYSKIN
Straight off the bat, not everyone knows their skincare type, or they have skin that changes with the weather, hormones, diet and lifestyle. For those men, AgencySkin is the solution.
AGENCYSkin understands men want to look their best but in an uncomplicated way. LHIFB is formulated from the prevention angle to provide best-in-class results that are supremely effective. Only safe and plant derived ingredients are used in results-orientated proportions. Bang for buck skincare.
RECOMMEND: LHIFB Essential Hyaluronic Infusion Serum ($70) – this super serum instantly hydrates and softens the skin's surface. Hyaluronic Acid (HA) is made up of proteins that are already found naturally in your body literally keeping you hydrated by bringing water into the tissues that need it. As you age there is a noticeable decrease of HA in the body which can lead to wrinkles and ageing skin. Adding HA to your regime is an essential move for the future of your skin because it helps to smooth out lines and wrinkles, locks in all that healthy moisture and beefs up your skins protective barrier to help guard against toxins and free radicals.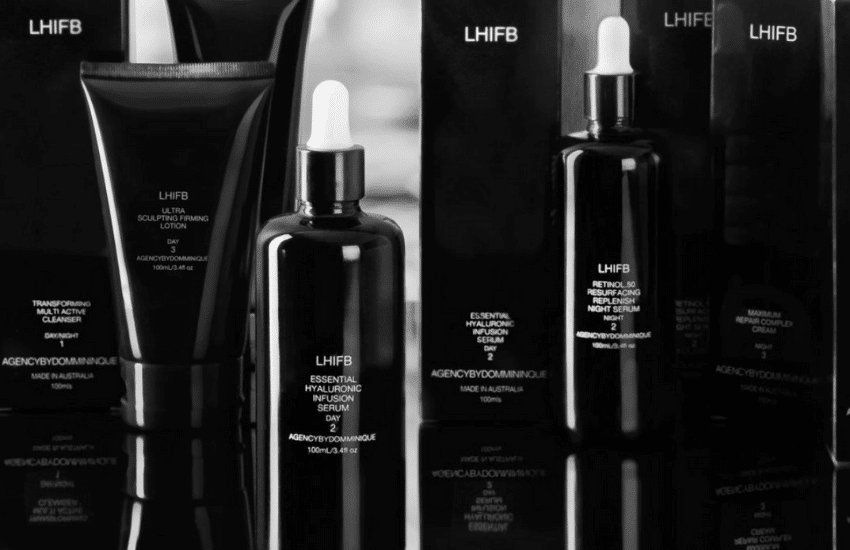 MADE FOR MAN™
According to research conducted by Southern Cross University the Australian landscape has more biodiversity than the Amazon and Asia combined. The Made for Man brand takes advantage of this bioiversity and infuses their range with certified organic native and naturalised Australian botanical plant extracts and oils sourced from our native landscape.
These plant extracts and oils are full of goodness the skin loves. All of Made for Man products are highly concentrated professional use grade, environmentally sustainable and ethically formulated.
RECOMMEND: Revitalise Enzyme Exfoliating Mask ($49.95) – a blend of fruit enzymes that remove dead and damaged skin. Colloidal Oatmeal and Lavender Oil to soothe and calm the skin.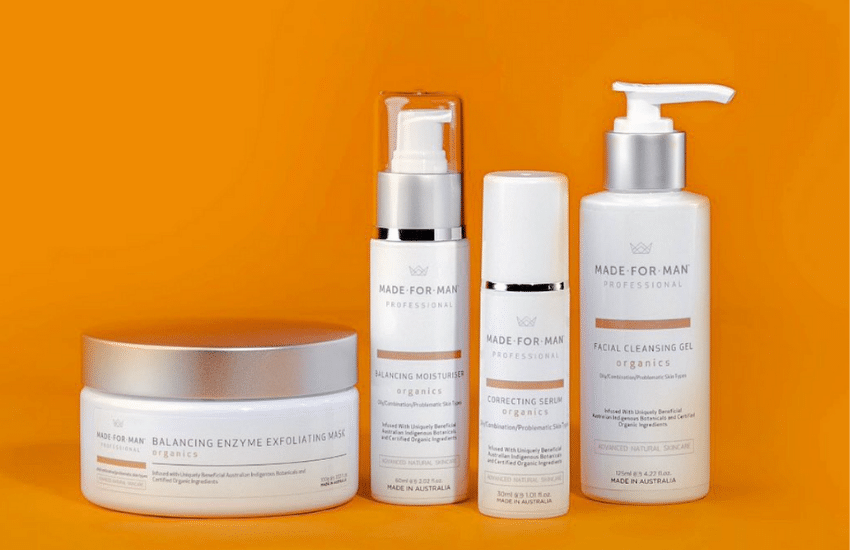 VITAMAN
VITAMAN products celebrate the raw beauty of nature and harness its power to create effective skincare and haircare solutions for men. All of their products are proudly made in Sydney from only the best ingredients Australia has to offer – its native botanicals.
Backed by science and time-tested for over 40,000 years by Australia's indigenous inhabitants, the unique properties within the naturally-derived botanicals found only in Australia – which have been thoughtfully infused into all of our products.
This is a stellar Men's Spa Range, used on men in the best Spas around the globe.
RECOMMEND: Natural Body Deodarant ($29.95) – VITAMAN's Deodorant Ocean is proven to keep you dry, whilst preventing the twin nasties of body odour and skin irritation.  This long lasting, natural body spray calms the skin and offers the refreshing sense of an ocean breeze.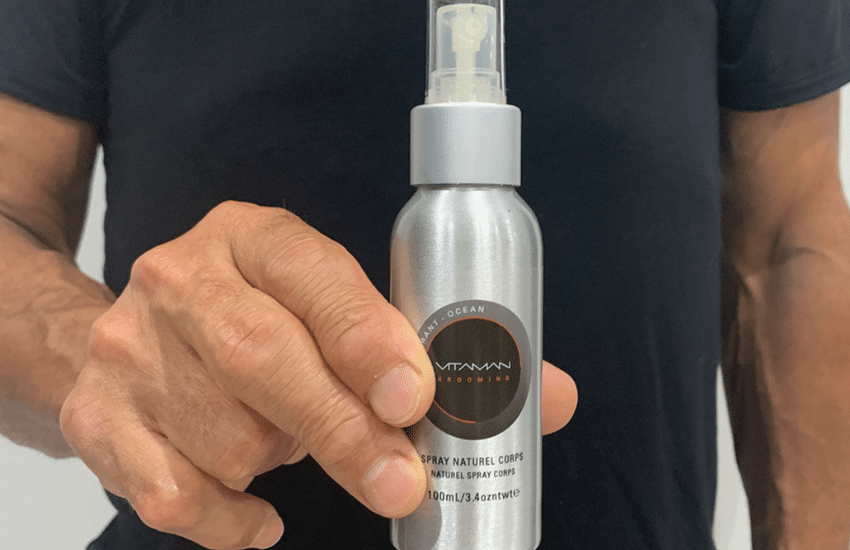 THE GROOMED MAN CO.
According to the Groomed Man Co, there are three things you need for a fresh face: a great moisturiser, gentle cleanser and an exfoliant. To make things effortless on your end, you can get all three of these products in one convenient kit.
The products use sustainable, natural ingredients like kaolin clay, green tea extract and magnetite that help to control excessive oil production, leave skin smooth and work to keep your skin from ageing prematurely.
RECOMMEND: Mangrove Citrus Beard Balm (For the Bearded Bloke) – turns your beard into a soft, patchouli-scented wonderland. The balm is loaded with Ucuuba Butter, Vitamin E and Brazilian Babassu Oil, to nourish your skin and enrich your follicles.